We must accept finite disappointment, but never lose infinite hope

Martin Luther King
In a recent Facebook post, our Regional Program Director, Brenda Lemus, wrote:
Years ago, I lost the first scholarship that we were awarded. It was for Álvaro, a young boy who polished shoes. It was awarded with great enthusiasm by my beloved mentor, and above all, friend.

Álvaro's father had been arrested for not paying child support, and his mother felt obligated to send the boy far away. When I told my mentor, he was so upset that asked me to no longer talk to him about that matter, or about anything else. I lost the scholarship; I lost the boy, and I lost a friend. 

I spent an entire day and night crying until I fell asleep. When I woke up, I washed my face and let a lukewarm bath wash away my sorrows. I headed for the library, and I came across this young man – who had faced who knows how much adversity – with a smile on his face. 

To this day, I don't know who he was, but I am grateful to him for having reminded me of the reason why I wanted to do things right. Eight years later, 65 boys, girls, and young students have the opportunity to access good quality, comprehensive education thanks to the many crazy people who believed in this project (including my mentor), which has now grown with both, successes and failures.
---
The spirit instilled by our Senior Alchemist – "remembering why I wanted to do things right" – inspired me to write a blog post titled "Beyond fear… we will be back!" (Published on October 4th, 2020). In the blog post I wrote "… this article is NOT a moan or a complaint. Sometimes you need to take a step back, reassess things, curb your impulses and refresh your intentions. This is what it is REALLY about. This is a formal promise: We will be back! Soon. Before you know it. 
Although it is important to clarify that Yo'o Guatemala's activities never completely ceased, the prevailing situation in the country did generate confusion and doubt, at least for me. But, last January, the opening of the Our School program hit me with a bang because this program wasn't just a response to Covid-19, but also a qualitative advancement. It is going to elevate the level of teaching in Purulhá. The community is going to benefit from a younger generation that will think better, and as a result, act better. In order to compete, other educational institutions will raise their standards and have more qualified teachers and so on. This is how we can continue to develop as far as our imaginations can take us.
This all leaves us brimming with emotion. To finish up, please allow me to act as the bearer of good news and present to you our program situation report:
"Lic. Bernardo Lemus Mendoza" Library — Active
Regálanos Tus Saldos Escolares (Donate Your School Supplies) — Active
Mi Niño Bonito (My Beautiful Child) — Active
Adopta Un Abuelito (Adopt a Grandparent) — Active
Nuestra Escuela (Our School) — Active
Más Allá De Mi Comunidad (Beyond My Community) — In progress
I am a proud Volunteer from Guatemala City, and I am happy to be able to share it with you all. I hope you are all well!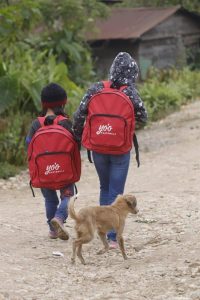 ---
Esta traducción de inglés ha sido posible gracias a la iniciativa PerMondo: traducciones gratuitas de sitios web y documentos para organizaciones sin ánimo de lucro. Un proyecto patrocinado por Mondo Agit. Traductor: Jack Caine. Revisora: Jessie Linardi-Nicol.